This book is filled with poetry that is unwilling to be defined, labeled, or nailed down. My poetry is a chiseled marble of language. It is a paint-spattered canvas, but I use words instead of paint, and the canvas is you.
I am critical in the way I dole out words.
To borrow a phrase, poetry is a riddle wrapped in an enigma swathed in a cardigan sweater... or something like that.
Ever-evolving genre of my poems, will shirk your definition of poetry at every turn. The continued evolution of poetry keeps my poems alive. These poems will challenge you and your emotions.
Purchase
The Message Art of Poetry
Help us help those who are suffering with this Autoimmune Disease.
Your purchase is part of a donation in hope of finding a cure for Myasthenia Gravis.
Buy or build your own candle or host a candle party at
CIVINTE CANDLE BAR, 807 S. Oak Park, IL 60304
The candles smell great and the environment is very relaxing and professional.
Experience

The Art of Poetry
This Is My Season
Pre-Sale tickets are still on sale. They're 30% cheaper than GA tickets, so please spread the word to those who want to save some money. Click link to purchase Pre-Sale, see you there.
https://www.reggieslive.com/showtag/the-pancakes-&-booze-art-show/


Come join me at the Pancakes and Booze Art Show in Chicago or The Society of Mannequins Luncheon & Fashion show. I will be selling my Fine Art and that's an experience like no other. Pancakes and Booze
Reggies 2105 S. State Street
Chicago, IL 60616
Click Image To Order Book
Order now beat the rush.
16x20 prints are on sale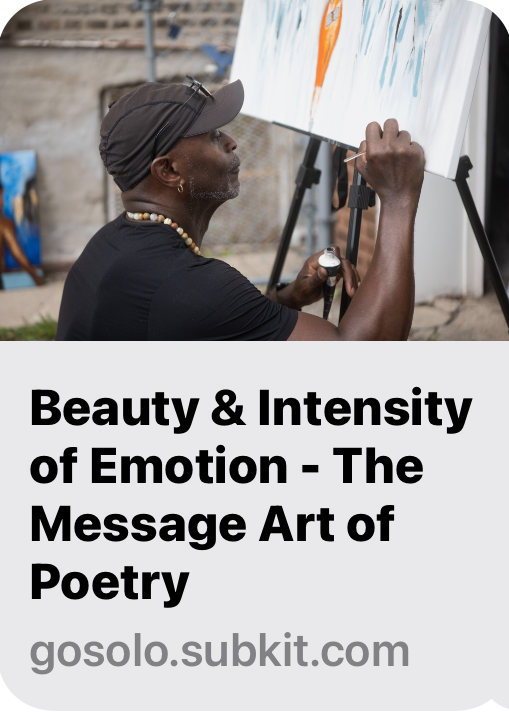 Click picture to view article.
Click picture to read Article.